Technical data of the Kuivizi port
Kuiviži port is located by the NE side of the Gulf of Riga by Krišupīte river mouth, in Salacgriva district:
3 km up North from Salacgriva
7 km from Estonian border
Kuiviži port territory: on land – 24.9 ha, in the sea 6.4 ha.
Access by motor road:
"Via Baltica" or E67; in LR motor road map also A1: (distance from the port 100-200m).
Kuiviži port channel: length 2,0 nautical miles or 3700 m, width 30 m.
Kuiviži port baseline: 258,40 – 78,40.
Light characterization: - 2vert.F.Za 3 nm.
Kuiviži port is used for fishery, fish processing, yachts, tourism, as well as private property management. Fishermen uses Kuiviži port for their commercial activities, SIA "Banķis", Zv/s "Bute", IK "Kuivižkrasts", SIA "Barka MK2" and others, including individuals that practices coastal fishing. Fishing ships and boats uses 3 fishing piers. Fish processing takes place in cold storage and sorting workshop built by SIA "Baņķis". SIA "Kuivižu osta" has developed leisure and yacht complex SIA "Kapteiņu osta" which includes a hotel, campsite and a restaurant.
SIA "Kuivižu osta" has built a yacht harbor that has yacht pier that is 90 meters long and also a yacht club. Association "Kuiviži yacht club" runs their activities there and during the summer they run a sailing school.
ATTENTION! FOR ALL YACHTS AND OTHER VESSELS.
Coming in and leaving Kuiviži port can be done moving only by the baseline to/from the floating light of the passage way, because there are fishing nets and creels placed nearby the vessel channel of Kuiviži port.
The coordinates of Kuiviži port's floating seamarks:
Floating light of the passage way, vertical red-white coloration
570 46,95'N
240 17,10'E
Light characterization: MO(A)B.10.2s
Green lateral buoy
570 47,12'N
240 18,69'E
Red lateral buoy
570 47,14'N
240 18,68'E
Berth layout plan of Kuiviži port: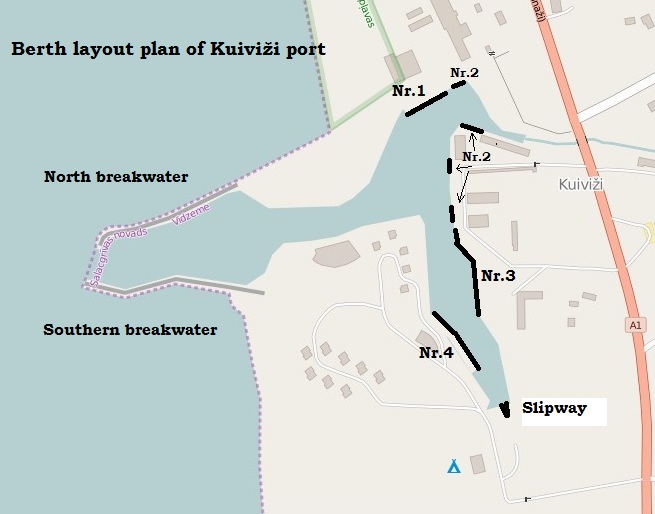 | | | | |
| --- | --- | --- | --- |
| Berth Nr. | Length (m) | Allowed draught (m) | The owner, user of the berth |
| 1. | 50 | 3,0 | Owner – the Council of Salacgriva District, used by SIA "Baņķis", fishermen. |
| 2. | 30 in total | 2,5 | Owners – private persons and legal entities, used by shores-men. |
| 3. | 120 | 2,5 | Owner – Salacgriva Port Authority, used by shores-men. |
| 4. | 90 | 2,5 | Owner - SIA "Kuivižu port", used by yachtsmen. |